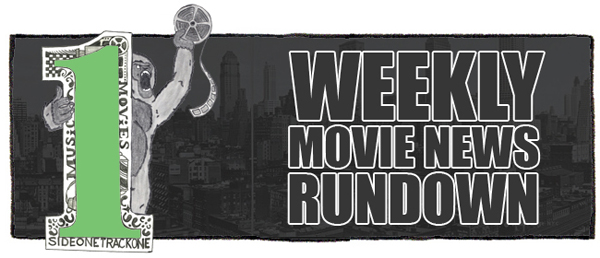 Time for your weekly movie news update!  Below you'll find a slew of sentences meant to provide a brief glimpse of what's been going on over the past week in movieland.  If something leaves you desperate for more info, then my advice is to do a little extra research on one or all of the following fantastic sites:  Latino Review, Dark Horizons, Ain't It Cool News, CHUD and/or JoBlo.  Read on!
Olga Kurylenko (Oblivion) will star opposite Pierce Brosnan in November Man.  The film will center around an ex-CIA agent who finds himself up against his former pupil.
Gerard Butler may star in a full length adaptation of the viral short The Raven.
There's a rumor going around that Christopher Nolan has been approached to direct Bond 24.
Bruce Willis will star in Expiration.  The movie is said to be about a poisoned hitman who is searching for a cure.
Bradley Cooper will star in Chef for John Wells.  It will follow a chef who is attempting a comeback after losing his restaurant.
Phillip Seymour Hoffman will star in the indie drama God's Pocket.  It's the big screen debut of John Slattery (Mad Men).
Samuel L. Jackson may sign on for a role in Barely Lethal, which is about a teenage assassin who enrolls herself in a suburban high school.
Drew Pearce (Iron Man 3) has been hired to write Mission Impossible 5.
Christoph Waltz, Robert De Niro, and Jason Clarke (Zero Dark Thirty) will star in The Candy Store.  The film will be directed by Stephen Gaghan (Syriana) and will feature several interweaving storylines.
Chris Pine and Jake Gyllenhaal are said to be looking at roles in Disney's Into The Woods.  Johnny Depp and Meryl Streep are already set to star in the fairy-tale musical.
Will Smith is said to be looking at doing a remake of The Wild Bunch.
Arnold Schwarzenegger may star in the remake of The Toxic Avenger.
Benicio Del Toro, Owen Wilson, Joaquin Phoenix, Martin Short, Jena Malone, and Reese Witherspoon will star in Paul Thomas Anderson's Inherent Vice.  The movie will be based on the book of the same name, which follows a pot smoking detective looking for a kidnapped woman that he used to date.
Summit is said to be already working on Red 3.  Red 2 is out July 19.
Michelle Yeoh is set to appear in Crouching Tiger, Hidden Dragon: The Green Destiny.
Chris Pine has landed a role in Joe Carnahan's Stretch.  The film already stars Patrick Wilson.
Tom Welling has signed on for Draft Day, which will star Kevin Costner as a GM who has traded up for the number one pick in the NFL draft.
Spike Lee will direct Gold.  The film is said to be about a prospector who stumbles across one of the largest gold mines in the world.
Uma Thurman is set to star in Anita, which will be based on the life of anti-gay activist Anita Bryant.
Chris Pine, Amanda Seyfried, and Chiwetel Ejiofor are set to star in Z for Zachariah.  The book deals with a small group of people who seem to be the only ones left after an apocalyptic event.
Drew Goddard (Cabin In The Woods) is in talks to direct The Martain.  It will center around an astronaut who becomes stranded on Mars.
This Week's Notable Trailers