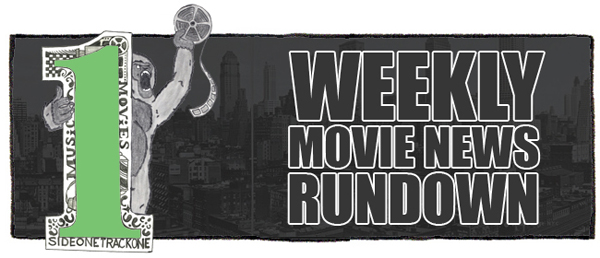 Time for your weekly movie news update!  Below you'll find a slew of sentences meant to provide a brief glimpse of what's been going on over the past week in movieland.  If something leaves you desperate for more info, then my advice is to do a little extra research on one or all of the following fantastic sites:  Latino Review, Dark Horizons, Ain't It Cool News, CHUD and/or JoBlo.  Read on!
Luke Evans (Fast & Furious 6) is reportedly close to signing on to star in the remake of The Crow.
Oscar Isaac (Drive) is said to be set to star in a Pablo Escobar biopic directed by Brad Furman (The Lincoln Lawyer).
Universal and Focus reportedly would like Joe Wright (Atonement) to direct the adaptation of 50 Shades Of Grey.
Chloe Moretz (Kick Ass) is expected to be offered the female lead in The Equalizer.  The movie, which is an adaptation of the 1980s TV show of the same name, will also feature Denzel Washington.
Will Ferrell and Vince Vaughn will star in Daddy's Home.  It's said to be a comedy based around a guy who suddenly has to compete with his wife's ex-husband.
William Fichtner (The Dark Knight) has joined the cast of Teenage Mutant Ninja Turtles.
Soccer stars Pele and Lionel Messi are said to have biopics in the works.
Fredrik Bond (The Necessary Death Of Charlie Countryman), Rupert Sanders (Snow White And The Huntsman) and the duo Joachim Ronning and Espen Sandberg (Kon-Tiki) are said to be in the running to direct Pirates Of The Caribbean 5.
Disney will adapt Marvel's Big Hero 6 into a CG animated film.
Jeff Nichols will direct Michael Shannon in Midnight Special, which is said to be a sci-fi film.
Richard Madden (Game Of Thrones) will play the Prince in Disney's Cinderella.
Pierce Brosnan, Jessica Alba, and Kirsten Scott Thomas will star in How To Make Love Like An Englishman.  The film is said to follow a professor who gets the girl of his dream's stepsister pregnant.
Jurassic Park 4 has been delayed indefinitely.
Joe Johnston will direct John Travolta in the John Gotti biopic, Gotti.
Ben Affleck has reportedly started working on an adaptation of Dennis Lehane's Live By Night.  It centers around an outlaw in the 20s.
Shane Black has officially signed a deal with Sony to co-write and direct an adaptation of Doc Savage.
Martin Scorsese will direct Andrew Garfield and Ken Watanabe in Silence.  The movie is said to deal with a priest on a trip to find out why his mentor has abandoned the Church.
Ewan McGregor is the latest actor expected to play the villain in Jane Got A Gun.
Tom Cruise has officially signed on for Mission Impossible 5.
Jackie Chan and Bingbing Fan (X-Men: Days Of Future Past) will star in Skiptrace, which is said to be an action comedy.
Robert Downey Jr. is set to appear in Jon Favreau's Chef.  It's said to be about a man who losses his chef job and then starts up a food truck.
300: Rise Of An Empire has been bumped to March 7, 2014.  All You Need Is Kill has been moved back as well, from March to June 6, 2014.
Christopher McQuarrie (Jack Reacher) is said to be looking at a remake of Ice Station Zebra.
Michelle Williams may star in a big screen adaptation of the musical South Pacific.
Joe Dante will direct Simon Pegg in adaptation of M.R. James' Casting The Runes.
This Week's Notable Trailers