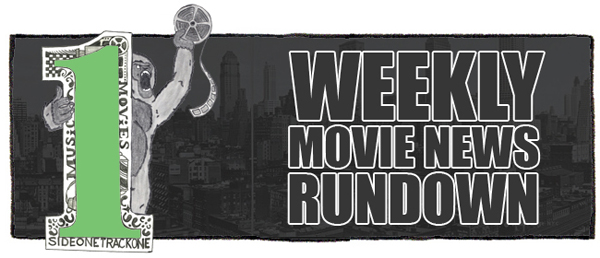 Time for your weekly movie news update!  Below you'll find a slew of sentences meant to provide a brief glimpse of what's been going on over the past week in movieland.  If something leaves you desperate for more info, then my advice is to do a little extra research on one or all of the following fantastic sites:  Latino Review, Dark Horizons, Ain't It Cool News, CHUD and/or JoBlo.  Read on!
Colin Firth has been case as the character Uncle Jack in Matthew Vaughn's The Secret Service.  The Mark Millar-penned comic follows a super spy who takes begins training his slacker nephew.
Al Pacino has bowed out of Despicable Me 2 due to creative differences.  Benjamin Bratt has taken his spot.
Michael Caine and Jessica Chastain have joined the cast of Christopher Nolan's Interstellar.
Sony has hired writer Oren Uziel (21 Jump Street 2) to write a script for Men In Black 4.
Reese Witherspoon may star opposite Keanu Reeves in Passenger.  The sci-fi film will center around a man on a starship who accidentally exits cryo-sleep a century too early.  In an attempt to not be alone, he wakes up a woman.
Treehouse Pictures is looking at doing a Mr. Rogers biopic.
Steven Spielberg will direct Bradley Cooper in American Sniper.  The movie will be based on the life of Navy SEAL Chris Kyle.
Justin Timberlake will star in Spinning Gold, which will be based on the life of music producer Neil Bogart.
Michael B. Jordan (Chronicle) is reportedly being considered for the role of The Human Torch in Josh Trank's Fantastic Four reboot.
Daniel Radcliffe will star in Tokyo Vice.  The movie is said to be based on reporter Jake Adelstein's memoir of the same name.
Kelsey Grammar has reportedly been cast as the villain in Transformers 4.
Chadwock Boseman (42) is rumored to be Marvel's choice to play the lead in a Black Panther movie.
Neil Blomkamp has cast Sharlto Copley in his next film, Chappie.  It's said to be a sci-fi comedy.
Disney has cast Lily James (Downton Abbey) as the lead in Cinderella.
Jamie Foxx has landed a role in the Annie remake.
The film rights for Punisher, Blade, and Ghost Rider have reverted back to Marvel.
Ben Stiller is reportedly nearing a deal to direct Robert Downey Jr. in a Pinocchio film.
Colin Firth and Emma Stone are set to star in Woody Allen's next film.  It's currently untitled.
Joe Carnahan (The Grey) is set to direct Sugar Bandits.  The book centers around a war vet who returns home and starts ripping off drug dealers for profit.
Die Hard 6 may be called Die Hardest.
Michael Fassbender and Natalie Portman may star in a big screen version of Macbeth.
Bradley Cooper has dropped out of Jane Got A Gun.  He has not yet been replaced.
Emilia Clarke (Game Of Thrones) will star in James Franco's The Garden Of Last Days.  The film is said to follow a stripper who brings her kid to work.
This Week's Notable Trailers