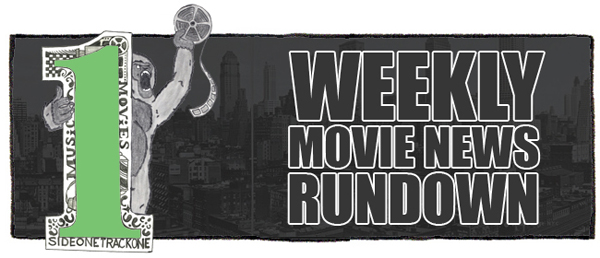 Time for your weekly movie news update!  Below you'll find a slew of sentences meant to provide a brief glimpse of what's been going on over the past week in movieland.  If something leaves you desperate for more info, then my advice is to do a little extra research on one or all of the following fantastic sites:  Latino Review, Dark Horizons, Ain't It Cool News, CHUD and/or JoBlo.  Read on!
Rob Marshall will direct Johnny Depp and Meryl Streep in the fairy tale-themed musical Into The Woods.
Scarlett Johansson will star in Luc Besson's Lucy.  The movie is said to follow a woman who becomes superhuman after the drugs she's been forced to smuggle leak into her system.
Anna Kendrick and Gemma Arterton will star in The Voices.  The movie will deal with a guy (Ryan Reynolds) who begins to take advice from his pets after he accidentally kills a woman he's dating.
Ryan Reynolds will star in Selfless, which is said to be a sci-fi thriller that follows a dying man trying to transplant his mind into a young body.
20th Century Fox is planning a remake of Guys And Dolls, and they would supposedly like Channing Tatum and Joseph Gordon-Levitt to star.  As of now, there's no script and a director is not attached.
It's suspected that Zack Snyder will be asked to direct a Justice League film if Man Of Steel is a hit.
Gus Van Sant is reportedly campaigning hard to direct the Fifty Shades Of Grey adaptation for Universal/Focus.
Bryan Singer recently let it be known that Bishop and Warpath will be in X-Men: Days Of Future Past.  It's believed that Omar Sy (The Intouchables) is the former, and Booboo Stewart (Twilight Saga) is the latter.
The Ed Helms-lead Vacation remake has been delayed due to what's being reported as creative differences.
A big screen adaptation of the game Ratchet & Clank is on the way.
Shia LaBeouf is reportedly in talks to join Brad Pitt in the WWII-centric Fury.
Lee Pace (The Hobbit) may play The Controller in Guardians Of The Galaxy.  Opehila Lovibond (No Strings Attached) has also signed on for an unknown role.
Vince Vaughn and Ben Stiller have signed on for a sequel to Dodgeball: A True Underdog Story.
Robert De Niro and Shia LaBeouf may star in Spy's Kid.  It will center around Nathan Nicholson, who was arrested by the FBI in 2009 and accused of sharing secrets with the Russians.
Shane Black recently said he is still trying to get his adaptation of Doc Savage made.
Arnie Hammer will star opposite Tom Cruise in The Man From U.N.C.L.E for Guy Ritchie.
The film rights to Daredevil have returned to Marvel.
Rosario Dawson has joined the cast of Chris Rock's currently untitled comedy.
Jake Gyllenhaal and Rene Russo will star in Nightcrawler, which is about a man involved with freelance crime reporting.
James Franco may star in Werner Herzog's Queen Of The Desert.  The movie is said to be based on the life of Gertrude Bell.
Jude Law will star in Black Sea for Kevin Macdonald (The Last King Of Scotland).  The film follow a former submarine captain who is trying to locate a sunken submarine that's said to be loaded with gold.
Zach Braff has raised money through Kickstarter for a film called Wish I Was Here.  The story will reportedly center around a struggling actor who begins to home-school his son.
This Week's Notable Trailers