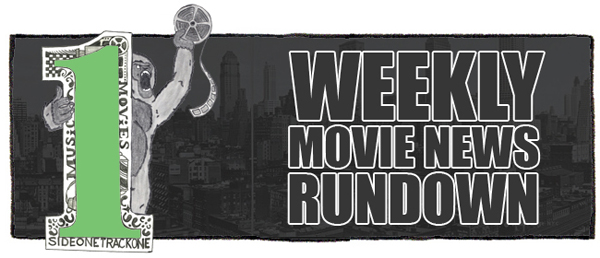 Time for your weekly movie news update!  Below you'll find a slew of sentences meant to provide a brief glimpse of what's been going on over the past week in movieland.  If something leaves you desperate for more info, then my advice is to do a little extra research on one or all of the following fantastic sites:  Latino Review, Dark Horizons, Ain't It Cool News, CHUD and/or JoBlo.  Read on!
Tom Hiddleston (The Avengers) may star in the remake of The Crow.
Ninja Turtles is apparently going to be called Teenage Mutant Ninja Turtles.  In related news, Danny Woodburn (Seinfeld) has landed the role of Splinter.
Will Smith will reportedly star in Focus (deals with a con man who is having issues with a former lover while trying to pull off a big job), The American Can (based on the true story of a marine who saved 244 people during Hurricane Katrina), and the Accountant (follows an autistic man who is also an assassin).
Michael Bacall, who wrote 21 Jump Street, is said to be working on a remake of Weird Science.
Keanu Reeves will star in Passengers.  The story is said to follow a man on a ship to a new world who is accidentally awakened 90 years before anyone else.  Instead of dying alone, he decides to wake a second person.  Brian Kirk (Game Of Thrones) will direct.
Hailee Steinfeld (True Grit) will star in Barely Lethal, which is about a girl trying to adjust to high school after growing up in a boarding school that trains kids to be assassins.
Disney's Alan Horn recently noted that starting in 2015 there will be a Star Wars film of some sort every year.
Joss Whedon said that he expects to start shooting The Avengers 2 in February.
Michael Rooker (The Walking Dead) will play Yondu in Guardians Of The Galaxy.
Tom Cruise is attached to star in Yukikaze.  There's no writer or director attached yet, but the movie is said to be based on the book of the same name.
Kate Upton may land a role in Nick Cassavetes' The Other Woman.  The movie is centered around a woman who decides to get revenge on her lover by teaming up with his wife.
Cillian Murphy has landed a role in Wally Pfister's Transcendence.
Will Ferrell and Jack Black may star in Tag Brothers.  The film will be based on the true story of a group of former classmates who who spend every February playing an elaborate game of tag.
Sony expects to release the 21 Jump Street sequel sometime next year.
There's a rumor going around that Marvel wants Justin Theroux to star in a Doctor Strange movie.
John Cusack, Julianne Moore, and Sarah Gadon have joined the cast for David Cronenberg's Maps To The Stars.
Wesley Snipes has signed on for a role in The Expendables 3.
This Week's Notable Trailers