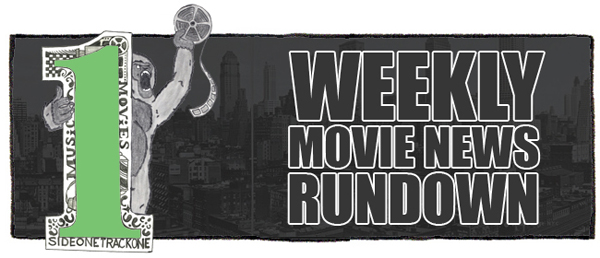 Time for your weekly movie news update!  Below you'll find a slew of sentences meant to provide a brief glimpse of what's been going on over the past week in movieland.  If something leaves you desperate for more info, then my advice is to do a little extra research on one or all of the following fantastic sites:  Latino Review, Dark Horizons, Ain't It Cool News, CHUD and/or JoBlo.  Read on!
Adam Shankman (The Pacifier) may direct Vin Diesel in The Machine, which will reportedly follow a human-like machine that is discovered by kids.
Rachel McAdams may join the currently untitled Cameron Crowe film.  Bradley Cooper and Emma Stone are already set for roles.
Morgan Freeman has joined the cast of Wally Pfister's Transcendence.
There's a rumor floating around that Charlie Hunnam (Pacific Rim) may play the Flash in the Justice League film.
Ericson Core (Invincible) is reportedly all set to direct a remake of Point Break for Alcon Entertainment.
James Wan (Insidious) has been hired to direct Fast And Furious 7.
Liam Neeson and Woody Harrelson may star in Highwaymen, which would follow the duo who killed Bonnie and Clyde.
Jim Carry is set to star in Ricky Stanicky.  The film is said to center around a group of friends who hire an actor to portray a made up friend that they've been using as an excuse to get out of trouble.
Eric Bana, Edgar Ramirez, and Olivia Munn have signed on for Beware The Night.  The movie will reportedly follow a cop and an Irish priest as they try to solve a case.
Anne Hathaway has joined the cast of Christoper Nolan's Interstellar.
David Yates' Tarzan has shut down production.
Mel Gibson may be in the running to direct The Expendables 3.
Jose Padilha will follow-up his Robocop remake with The Brotherhood.  It will reportedly follow a cop investigating two corrupt detectives.
Bryan Cranston, Mads Mikkelsen, and Rebel Wilson have landed voice roles in Kung Fu Panda 3.
Rob Cohen will direct Crash Bandits, which is about two rival treasure hunters.
Alex Garland (28 Days Later) is set to direct Oscar Issac (Drive) and Domhall Gleeson (Anna Karenina) in Ex Machina.  The film is said to follow a programmer who creates an artificially intelligent female robot.
This Week's Notable Trailers