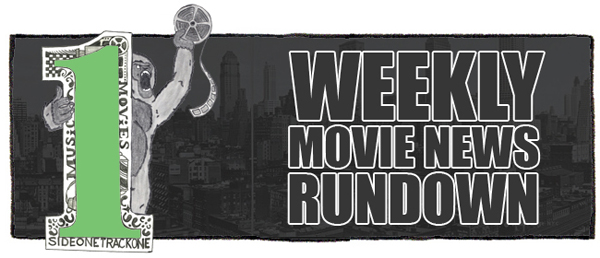 Time for your weekly movie news update!  Below you'll find a slew of sentences meant to provide a brief glimpse of what's been going on over the past week in movieland.  If something leaves you desperate for more info, then my advice is to do a little extra research on one or all of the following fantastic sites:  Latino Review, Dark Horizons, Ain't It Cool News, CHUD and/or JoBlo.  Read on!
Alan Ritchson (The Hunger Games: Catching Fire) has been cast as Raphael in the Michael Bay-produced Ninja Turtles.
Ryan Reynolds recently noted that Rhett Reese and Paul Wernick, the duo who wrote Zombieland, have a completed Deadpool script.  It, however, is apparently borderline NC-17, and he doubts any studio will ever make it.
Ian McShane, Joseph Fiennes, John Hurt, and Rebecca Ferguson have joined the cast of Brett Ratner's Hercules.  Dwayne Johnson is already set to star.
Dwayne Johnson's Luke Hobbs character from Fast Five is expected to get its own spin-off movie.
Seth Rogen will produce, co-direct (with Evan Goldberg), and star in The Interview, which is about a talk show host who gets caught up in a plot to kill the North Korean Prime Minister.  James Franco may also sign on for a large role.
Antonie Fuqua may direct the long gestating big screen adaptation of the 1980s TV show The Equalizer.  Denzel Washington is still set to star.
Kiefer Sutherland is set to play the villain in Paul W.S. Anderson's Pompeii.
Christina Applegate may star opposite Ed Helms in the Vacation reboot.
Jane Got A Gun is having some issues.  Jude Law has left the film (a week after signing on), and director Lynne Ramsey (We Need To Talk About Kevin) reportedly didn't show up for the first day of filming.  She has been replaced by Gavin O'Connor (Warrior).
Tom Cruise will star in The Man From U.N.C.L.E. for Guy Ritchie.
David Goyer (writer of Man Of Steel) is set to direct a remake of The Count Of Monte Cristo.
Hugh Jackman has reportedly signed on to star in an adaptation of Six Years.  The book follows a man who begins to question his memories of a former love.
Michael Gracey, a commercial director, has been hired to direct an Elton John biopic titled Rocketman.  The film is being made by Elton John's Rocket Pictures.
Joel Silver is reportedly set to reboot Escape From New York.
Fred Savage may direct Charlize Theron in Ladies Night.  It's said to be a Bridesmaids-esque comedy.
Mexican director Gerado Naranjo is set to replace Joe Carnahan on the Death Wish remake.  Carnahan reportedly left because of creative differences with MGM.
Robert Redford is said to be in talks to join the cast of Captain America: The Winter Soldier.
The release of Edgar Wright's The World's End has been moved up.  It will now be out August 23.
Hansel & Gretel: Witch Hunters will more than likely get a sequel.
Ken Watanabe has joined the cast of Gareth Edward's Godzilla.  The movie already features Aaron Taylor-Johnson, Elizabeth Olsen, Juliette Binoche, David Strathairn, and Bryan Cranston.
Kristen Wiig may star in Welcome To Me, which is said to center around a woman who uses her lotto winnings to create a TV show about her life.
Justin Timberlake may play Daddy Warbucks in the upcoming Annie remake.
Sarah Silverman is in talks to play a hooker in Seth McFarlane's A Million Ways To Die In The West.
This Week's Notable Trailers