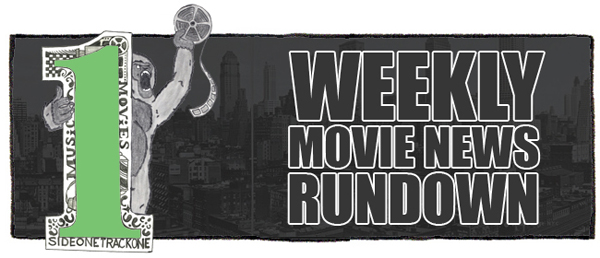 Time for your weekly movie news update!  Below you'll find a slew of sentences meant to provide a brief glimpse of what's been going on over the past week in movieland.  If something leaves you desperate for more info, then my advice is to do a little extra research on one or all of the following fantastic sites:  Latino Review, Dark Horizons, Ain't It Cool News, CHUD and/or JoBlo.  Read on!
Sam Raimi recently noted that he hopes to work on a script for Evil Dead 4 this summer with his brother.
Halle Berry is "90% sure" that she will be in X-Men: Days Of Future Past.
Marvel is reportedly split between Jason Mamoa and former wrestler Dave Bautista as their choice for Drax in Guardians Of The Galaxy.
Jena Malone will star in Angelica, which is said to be a Victoria ghost story.
Dane Cook has signed on to voice the lead character in Planes for Disney.  The Cars-spinoff is said to be about a plane who wants to start racing.
Tom Hardy may star in Samarkand.  It will reportedly center around a British soldier with PTSD.
Ninja Turtles has been pushed back a couple of months and now has a release date of June 6, 2014.
Bradley Cooper may direct and star in a remake of Kokowaah.  The film was released in Germany in 2011, and it follows a writer who suddenly finds out that he has a daughter.
Chris Cooper has signed on to play Norman Osborn in The Amazing Spider-Man 2.
The Coen brothers have signed to help Angelina Jolie re-write Unbroken.  The film will be based on the life of Lou Zamperini, who just had the worst luck.
James McAvoy may star in the remake of The Crow.
A sequel to Sinister is currently in the works.
Dreamworks is planning a re-imagining of Robin Hood.  It will be called Merry Men.
Disney is said to be in early talks with Emma Watson about a live action Cinderella movie.
Gary Oldman has signed on for a role in Dawn Of The Planet Of The Apes.
The Ed Helms-lead Vacation reboot will be a road trip to Wally World.
Liam Neeson is set to voice the villain in The Nut Job, which is an animated heist film about a squirrel who wants to rob a nut store.
Meagan Good (Deception) and Dylan Baker (Damages) have signed on for roles in Anchorman 2.  John C. Reilly is also rumored to have a part.
The Hobbit: There And Back Again has been delayed five months and will now be released December 17, 20014.
Tina Fey may star along side Jason Bateman in the adaptation of This Is Where I Leave You.  The book follows a dysfunctional group of siblings trying to spend time together after their father dies.
Joe Wright (Anna Karenina) is set to direct Neil Gaiman's The Ocean At The End Of The Lane, which is said to be about a young protagonist who must deal with ancient powers that have been stirred up.
Johnny Depp has confirmed that he will star in Transcendence.  The movie is the directorial debut of Wally Pfister (Inception).
This Week's Notable Trailers