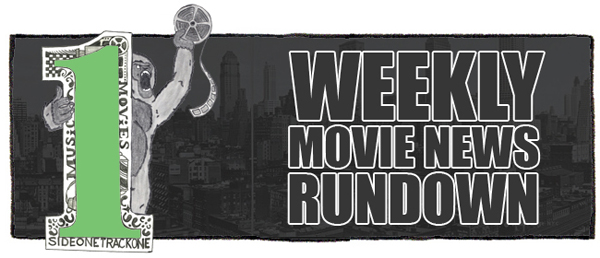 Time for your weekly movie news update!  Below you'll find a slew of sentences meant to provide a brief glimpse of what's been going on over the past week in movieland.  If something leaves you desperate for more info, then my advice is to do a little extra research on one or all of the following fantastic sites:  Latino Review, Dark Horizons, Ain't It Cool News, CHUD and/or JoBlo.  Read on!
Melissa McCarthy and her husband Ben Falcone will direct Tammy.  It's said to be a road trip comedy.
Warner Bros. is said to be looking to develop a new script for their Justice League movie.  Will Beall (Gangster Squad) wrote the first draft, but apparently it's bad enough to make the studio just want to start over.
Tom Hardy will star in Locke, which is said to be about a family man that's suddenly tossed into a very dangerous situation.
JJ Abrams and Gabe Newell (of Valve) have formed a partnership to look at possibly adapting the Portal and Half-Life games into movies.  New games are also said to be in the works.
Elizabeth Olsen and Bryan Cranston may join the cast of the Godzilla reboot.
Bruce Willis recently said that he expects there to be a Die Hard 6.
Paul Walker is set to star in the Hitman reboot, Agent 47.
Willow Smith has dropped out of the Will Smith/Jay-Z version of Annie, and now Quvenzhane Wallis (Beasts Of The Southern Wild) is being rumored as a possible replacement.
Peter Dinklage will star in A Long Way From Home.  It's said to be an epic adventure.
Ellen Page will direct Anna Faris in Miss Stevens.  The film will reportedly center around a teacher whose life is in disarray.
The team behind the Lorax are said to be trying to remake How The Grinch Who Stole Christmas.
Night At The Museum 3 will open on December 25, 2014.
Joel McHale, Lauren Graham, and Robin Williams will star in the holiday road trip flick A Friggin' Christmas Miracle.
Warner Bros. have reportedly picked up a script called The Lost Legion.  It's said to be about the Roman Empire having battles with the Han Dynasty of China.
Dakota Fanning and newcomer Danielle Macdonald will star in the adaptation of Every Secret Thing.  The book follows two young girls who have recently been released from prison after being convicted of killing a baby.
Michael Keaton has landed a role in the adaptation of Need For Speed.
There's a rumor floating around that the next Hulk entry will be an adaptation of the comic Planet Hulk.
Christopher McQuarrie recently noted that he's deciding whether or not to write and direct Mission Impossible 5.
Disney is reportedly looking at a variety of Star Wars spin-off films.  The rumored list currently contains Boba Fett, Yoda, Darth Vader, and Han Solo.
Sean Bean has landed a starring role in the Wachowski's Jupiter Ascending.
Nicholas Hoult (Warm Bodies) will star in Rupert Wyatt's adaptation of Birdsong.  The book follows a young soldier who falls in love with an older woman.
This Week's Notable Trailers