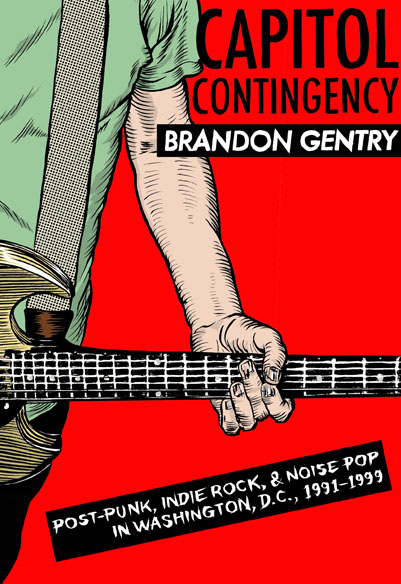 People usually associate the DC music scene with the legendary hardcore and post-punk bands on Dischord records: Minor Threat, Fugazi, Rites of Spring, etc. I lived in the capital city area for almost 20 years and while I loved the hardcore bands I always thought it was a shame that the music of the city was so pigeonholed. Most people were unaware that the music of chocolate city had evolved beyond the "Dischord sound." It was a vibrant place with bands exploring and mixing numerous genres and styles, and now a new book that explores those innovative and daring bands that were sadly overlooked.
Capitol Contingency: Post-Punk, Indie Rock, and Noise Pop in Washington, D.C., 1991-1999 examines over 25 of the top bands and albums from that era. I bought it just before the holidays and have loved reading the back stories of each band. It's like DC's own version of Behind The Music, except without the unnecessary drama and the cool narrator voice. It was written by Brandon Gentry, who lives in Austin with his wife and two kids after living in DC for almost a decade.
There was a fascinating cast of characters in the DC music scene during the 90's and many of them were interviewed for the book. Musicians such as Ian MacKaye (Fugazi), Travis Morrison (Dismemberment Plan), and Ian Svenonius (Nation of Ulysses) make for great quotes. As I read each chapter, I dove into the featured album to see if it stood the test of time. Not surprisingly, I enjoyed many of the records. There were a few I might have appreciated in the 90s, but not as much as today. The records that failed to connect were greatly outnumbered by new discoveries I immediately took to. I had never listened to the second LP from Trans Am, Surrender To The Night, which is a post-rock classic. I simply cannot get enough of that album. Other bands that entered my regular rotation thanks to Capitol Contingency include Pitchblende, Chisel, Hoover, The Delta 72, and Unrest. There was only one band that I disliked at the time and upon revisiting their work, I found them even more unlikeable: Shudder to Think. I may never crack the mystery of their appeal.
I've read more books about bands than I can remember and few have been as engaging as Capitol Contingency. I highly recommend it for any music fan, but especially for those that enjoy bands such as Dismemberment Plan, Fugazi, Jawbox, etc. I created a Spotify playlist which contains 26 of 27 bands chronicled in the book. Check it out right after purchasing Capital Contingency from Amazon.
:Pitchblende – Reticence:
:The Dismemberment Plan – A Life Of Possibilities:
:Trans AM – Cologne: