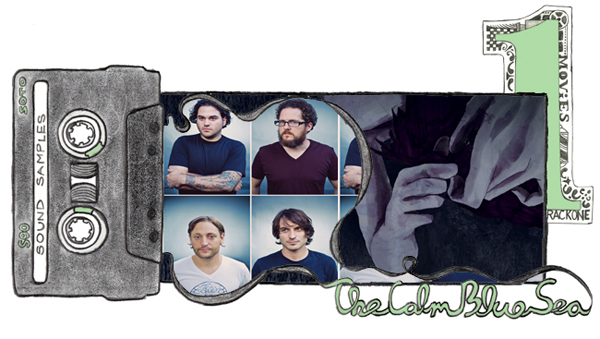 Sound Samples is a SOTO feature meant to provide some insight on what inspired and/or influenced an artist's latest release. Today's entry comes from Austin-based instrumental act The Calm Blue Sea. The band is all set to put out their new full length, Arrivals & Departures, on October 9 via Modern Outsider. This Saturday they're having a record release show at Red 7. Get more information on The Calm Blue Sea here.
We each come at our music from such a drastically different perspective and pull songs in ways that were rarely the intention of the idea's creator. Sometimes the results are magical and other times there are massive rifts between us when we don't agree, but despite the difficult creative process, the band and the music we make is better for it in the end. Here's a taste of what influenced Steve (drums), Kyle (bass), and me (guitar/keys/vocals) when we were writing Arrivals & Departures.  Chris
:Ambulance Ltd. – Yoga Means Union:
This song has one of the most awesome builds from beginning to end.  It's the thing I put on when I need a good kick in the ass – something that motivates me. The bass drives so much of what's going on under all the guitars and really gives a sense of momentum.  I try to bring this approach to TCBS songs by using the bass as a melodic instrument from time to time – little hooks that peek out from the midst of everything else. I really love how this song keeps building more and more … a little more intense each time, and you think it can't possibly open up any more … until it does.  And wow, what an explosion when it happens.  The rhythmic unity of the band when things get huge at the end is just incredible.  This is a song you should play loudly.  Kyle
:The Antlers – Wake:
The entire Hospice album could go down on the list for me as the biggest influence on this record. It taught me a lot of things about subtlety, simple (yet effective) piano parts, understated melodies, interesting song structures … the list goes on. But what hit me most was the weight of this record. The sadness and emotion crushes you. I love to listen to and create moody, dramatic music. Happiness feels good, but sadness feels much more real to me in music.  Chris
:Bill Frisell – Shenandoah:
For a reason I can't remember, during a rehearsal I was trying to explain Bill Frisell interpreting folk melodies and how I liked his use of delay units and such. I couldn't find the version from his East West record that I was thinking of, but somehow I ended up playing the Paul Robeson version off Youtube through the PA and going to the restroom, during which time I'm sure the guys laughed their asses off at me. Something we were working on brought the melody to mind, whether bringing this up affected anything I'm not certain of, but these are the kind of random contributions I pull out from time to time.  Steve
:Caspian – Loft:
I am a huge fan of this band.  From what I've heard, this is the first song they wrote together.  It's a beautiful piece of melody and power all in one package.  I particularly love how the bass moves within the context of the song, sometimes melodic, other times driving and rhythmic.  The tones of all the instruments really work well together and the textures they create are so massive!  There are moments of quiet, almost reflective in nature, that lead to big confident driving passages that seem to get bigger and bigger.   That whole EP is one of my favorite records.  Kyle
:Deep Purple – Fools:
We've just lost Jon Lord, so this was on my mind. I'm not ashamed to admit I was listening to the Fireball and In Rock LPs a lot during the writing of this album. Somewhere in a landfill sits a copy of Rockin' Bass Drum with hand written instructions from my first drum teacher to check out those records. I feel kind of dumb for sleeping on them for so long. I hadn't owned a proper stereo since pre-Katrina and I put one together around the time we were doing the first sessions for this LP. For some reason most of the gear I bought was from the late 70s-early 80s and buying a bunch of Deep Purple records seemed obligatory. I also made a conscious decision to not play so minimal on this record, so checking out Ian Paice may have put me in touch with some primal rock drummer concept that I had been ignoring for a while.  Steve
:Errors – Magna Encarta:
I went on the road with these guys driving them around the US when they opened the Mogwai tour in 2011. They'd just released Magna Encarta as a single and it was in the set every night.  I love everything about the song but the vocals really stand out to me. Seeing the way that Errors, a mostly instrumental band, incorporated vocals was really inspiring and touched perfectly on the way I saw vocals working for our new material. Steev from Errors showed me the vocal processor he uses on the song and from that moment on TCBS was never the same.  Chris
:Neil Young And Crazy Horse – Winterlong:
Neil Young probably got more air time than anyone else in my house over the last year. When I got married in May of 2011, a good friend gave me a few represses and my wife and I didn't listen to much else for weeks. Somewhere later in the year this song came on my radar. I hadn't ever heard the Pixies cover of it, and somehow this version was from a bill that Neil and Crazy Horse shared with Miles Davis during his electric period (which is maybe the most important music to me, ever). Either way, I heard it for the first time and thought "yep. that's perfect. absolutely perfect. can I have one musical moment in my life like that please?"  Steve
:Other Lives – Black Tables:
It was a tough choice which Other Lives song to put on this list (between Tamer Animals or Black Tables). About 80% of my writing for Arrivals & Departures was on piano (versus 0% of the self-titled) and Other Lives has influenced the way I approach the instrument more than any other. The piano melody and overall sound permeated a lot of the TCBS writing this time around.  Chris
:Pink Floyd – Dogs:
I really love Roger Waters as a bassist, not because he's technically amazing, but because he always knows when to leave space and when to transition from rhythmic to melodic.  He really holds down the groove well, too. The instrumental arrangement does a really fantastic job of creating compelling textures that keep the song interesting. By the time it comes back in after progressing through a number of movements and a breakdown in the middle, you are dying for that harmonized guitar line – it's the most satisfying feeling in the world to hear it wash over you!  I love how this song builds anticipation and really sets a deep, unmistakable mood.  Every time I hear the acoustic guitar starting the song, I get really excited for the musical journey I'm about to take.  Kyle
:The Twilight Sad – The Room:
One of my favorite songs by my favorite active band. Everything they do is an influence for me. This song first appeared on their Killed My Parents EP as Untitled #27. Both versions are amazing and I've taken bits of inspiration from each in writing for TCBS.  Chris
To download a zip of the entire mix, click here.