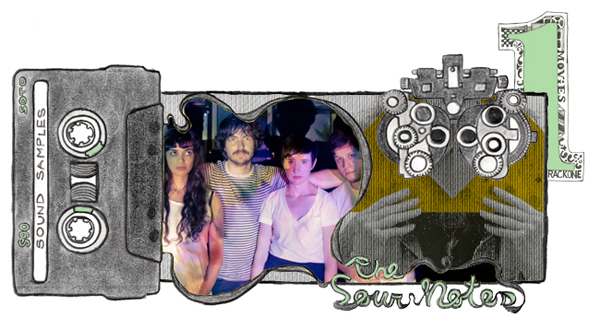 Sound Samples is a SOTO feature meant to provide some insight on what inspired and/or influenced an artist's latest release.  Today's entry comes from The Sour Notes (with words from frontman Jared Paul Boulanger).  The band's latest full length, Last Looks, has been available for about a year, but just recently it was remastered and released on vinyl.  This Thursday you can see them play for free inside Stubb's after Yeasayer is done on the outside stage.  More information on The Sour Notes can be found here.
Last Looks is the fourth full length and sixth overall release by my band, The Sour Notes.  I spent a number of years being part of a group in Houston, but after the project dissolved I decided it was time to give it a shot on my own.  So, I quit my ad agency job and moved to Austin, where I found myself slinging popcorn at the Dobie Theater.  From there I met some good folks, then started a band.
Much of Last Looks developed and took form as a dedicated group. This let us knock it out quickly. Recorded between a summer and winter tour, a Kickstarter allowed us to release it immediately (rushed, foolishly without any promotion). It was a very exciting period for us.  When we were putting the album together we had just gotten into SXSW, CMJ and others for the first time, and we felt an urgency to maintain that energy – a strain that eventually turned on us, pulling us apart. By the time we finished it up, the last three songs to be recorded were done by just the drummer (Taylor) and I.
In that bittersweet stretch, I found myself listening to Last Looks frequently. It's a bit of a hodge podge, but in general I feel drawn to the songs because they're poppy, yet epic and they have an element of quirkiness that haunts you long after all is said and done.  The album also falls in line with something that I think is really important, which is that each of our releases should be different in some way.  Because, as David Byrne has noted, "Say something once, why say it again?"  On Last Looks the difference comes from us choosing to cut synths in favor of loads of string and horn arrangements (courtesy of Maurice Chammah and Matt Puckett of Mother Falcon). It made the album much louder and more aggressive, but it's still poppier than anything else we've ever done.  I like that.
Here are some songs that will you give you an idea of where our heads were during the crafting of Last Looks.  Thanks!
:The Veils – Calliope!:
:Wire – Mannequin:
:Orchestral Manoeuvres In The Dark – Electricity:
:Broadcast – Poem Of Dead Song:
:Radiohead – There, There:
:John Cale – Paris 1919:
:Chisel – Do Go On:
:The Jam – Down In The Tube Station At Midnight – Single Edit:
:Built To Spill – Stop The Show:
:Jawbreaker – Million:
:Spiritualized – Come Together:
:Tears For Fears – Everybody Wants To Rule The World:
:Joan Of Arc – (I'm 5 Senses) None Of Them Common:
:David Bowie – Soul Love:
:The Idle Race – Days Of The Broken Arrows:
Want to have a copy of Last Looks on colored vinyl for yourself?  Then either shoot an email here or leave a comment.  We'll pick a winner at the end of the week!