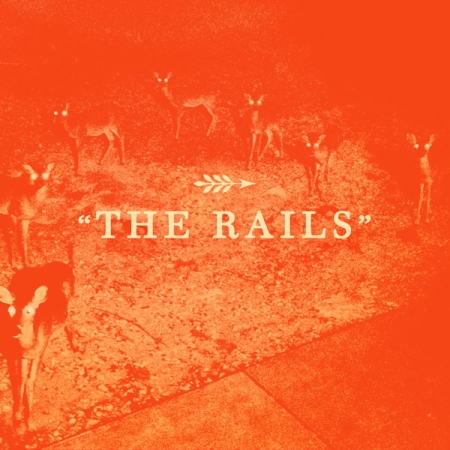 Royal Forest (Loxsly at the time) was one of the Austin bands I really got into after moving here. I loved Lamprey Eels off their Flashlight EP. It was (and remains) a brilliant piece of psychedelic pop rock. Since that early introduction, I've enjoyed the evolution of the band as they have added more experimental elements and guitar-driven tracks to their music (best displayed on their Tomorrow's Fossils record).
Royal Forest has just finished recording their next album (due out in the Spring) and are releasing an EP by the end of the year. I was very pleased to hear the news and am proud that Side One Track One is the first to premiere the song The Rails off of the yet-to-be-named EP.
:Royal Forest – The Rails:
I had a chance to discuss the new recordings with Cody Ground (vocals, keyboards) and Justin Douglas (guitar). I was curious about the approach for this record. Past efforts were very thematic, not concept records per se, but there was definitely a unified direction in the songs. However, Cody and Justin say that is not as necessarily the case on the new tunes. While the lyrics were influenced by southern rural imagery (and many hours of listening to Townes Van Zandt) the music itself isn't as rustic. As evidenced on The Rails, the band retains its trademark textures and stellar guitar work but it's done with more of a lo-fi sound. They made a conscious decision to not to over think and continually tinker with the tracks, and instead opted for live tracking to tape to really capture the live energy and essence of the band. It shows on The Rails and I'm very anxious to hear both the upcoming EP and next year's album.
If you're like me and want to hear more of the new songs, be sure to check out Royal Forest on October 18 at the Mohawk. They'll be sharing the stage with The Dig and The We Shared Milk. Can't make the show you say? Well, keep an eye out for them on an upcoming episode of Hardly Sound on KLRU-Q (Austin's PBS station for those who don't do call letters).
If you haven't heard of Hardly Sound yet, you need to check it out. It's a documentary series that highlights the best in Texas music. They have crafted their own unique style, and based on the previews now available, they'll have plenty of interesting stories to share. Plus, a whole bunch of good music.
Hardly Sound is just getting off the ground, though, and needs your support. I highly encourage you to help out your local community, the arts, and Texas music by visiting this page and pledging a few bucks to keep the Hardly Sound film rolling. In return you'll get a great series on Texas underground music AND a lovely parting gift like a custom postcards, pins, a t-shirt, songs, and maybe even a Producer credit! Do it now!
The next Hardly Sound episode is October 1st on KLRU-Q at 11PM. It features garage rock gods the Bad Lovers. Check out the preview below: