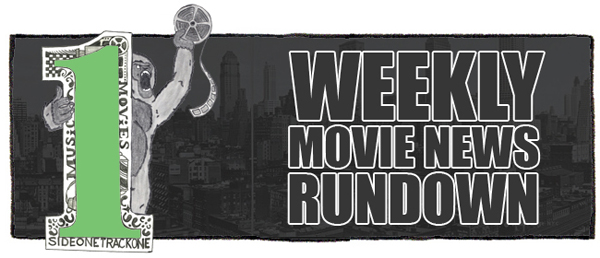 Time for your weekly movie news update!  Below you'll find a slew of sentences meant to provide a brief glimpse of what's been going on over the past week in movieland.  If something leaves you desperate for more info, then my advice is to do a little extra research on one or all of the following fantastic sites:  Latino Review, Dark Horizons, Ain't It Cool News, CHUD and/or JoBlo.  Read on!
Marc Webb and Andrew Garfield are set to return for a sequel to the Amazing Spider-Man.
Mark Miller (Wanted, Kick Ass) has accepted a creative consultant role at 20th Century Fox.
Justin Timberlake may star in The Last Drop, which is said to be about an alcoholic restaurant critic who is trying to sober up in order to be with the woman he loves.
Patrick Stewart recently noted that at some point he expects to reprise his role as Professor X.
Matt Reeves (Cloverfield), J Blakeson (The Disappearance Of Alice Creed), Juan Carlos Fresnadillo (28 Days Later), Jeff Nichols (Take Shelter), and Juan Antonio Bayona (The Impossible) are said to be in the running to direct Dawn Of The Planet Of The Apes.
The Farrelly brothers are saying that they're nearly done with a script for a Dumb And Dumber sequel.
Len Wiseman (Underworld) is set to direct a remake of The Mummy.
Chris Hemsworth and Anne Hathaway are set to star in Steven Spielberg's Robopocalypse.
Tom Hardy is reportedly in talks to star in Everest for Doug Liman.  It will be based on the life of George Mallory.
Gina Carano (Haywire) has signed to appear in the female version of The Expendables.
Natalie Portman is reportedly being courted by Fox Searchlight to star in a movie based on Jackie Kennedy.
Daniel Radcliffe has expressed interest in playing the Hunchback in Paul McGuigan's (Lucky Number Slevin) adaptation of Frankenstein.
Richard Kelly (Donnie Darko) is set to direct Nicholas Cage in Amicus.  The movie is said to be based on a true crime story.
Henry Selek's Shademaker may be picked up by Laika Entertainment.  Disney recently canceled the project because production was "moving too slowly."
Jay Baruchel recently said that he's working on a script for Goon 2.
Todd Phillips (The Hangover) is set to direct a thriller titled Trust Your Eyes.
Jake Gyllenhaal will star opposite of Hugh Jackman in Prisoners, which is said to follow a detective trying to help a man find his daughter and best friend.
This Week's Notable Trailers