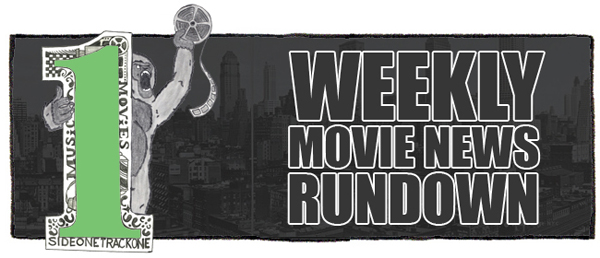 Time for your weekly movie news update!  Below you'll find a slew of sentences meant to provide a brief glimpse of what's been going on over the past week in movieland.  If something leaves you desperate for more info, then my advice is to do a little extra research on one or all of the following fantastic sites:  Latino Review, Dark Horizons, Ain't It Cool News, CHUD and/or JoBlo.  Read on!
James Gunn (Super) is reportedly close to signing on to direct Guardians Of The Galaxy for Marvel.
Adam McKay's adaptation of The Boys is supposedly being developed at Paramount.  The comic follows a group of CIA agents that are tasked with making sure superheroes stay in line.
Bradley Cooper may star in Bad Blood And Trouble for J. Blakeson (The Disappearance Of Alice Creed) and the A Star Is Born remake for Clint Eastwood.
The trouble adaptation of World War Z has been given seven weeks of reshoots.
The Avengers 2 now has a release date of May 1, 2015.
John Goodman is rumored to be up for a role in The Hangover: Part III.
Joe Carnahan (The Grey) wasn't able to get his Daredevil movie off the ground, but he did release a couple of sizzle reels.  They're neat.
David Cronenberg recently noted that Eastern Promises 2 is officially dead.
Disney has ended production on Henry Selick's untitled stop motion film that had already been underway for a year.
Clint Eastwood, Harrison Ford, Wesley Snipes, and Nicholas Cage are all rumored to have roles in The Expendables 3.
Michael R. Roskam (Bullhead) is reportedly set to direct The Tiger.  The movie would follow a team of trackers sent to Russia to find a man-eating tiger.
Rumor has it that neither Rupert Sanders or Kristen Stewart will be back for a sequel to Snow White And The Huntsman.
Winona Ryder is reportedly close to joining Homefront.  Jason Statham is already set to star in the movie that will follow a retired DEA agent who is trying to clean up the quiet town he lives in.
Jake Gyllenhaal is set to star in Mississippi Grind for Ryan Fleck and Anna Boden (Half Nelson).  It will center around a down on his luck gambler who teams with a younger gambling addict in an attempt to win his way out of debt.
Carey Mulligan may star in Nancy And Danny for James Marsh (Man On A Wire).  The movie is said to be about a money-hungry woman who gets involved in a get rich scheme that goes wrong.
47 Ronin, which stars Keanu Reeves, has been delayed from February 8, 2013 to December 25, 2013.  This is reportedly because of a need for reshoots.
Robert Pattinson is expected to play TE Lawrence in Werner Herzog's Gertrude Bell biopic Queen Of The Desert.
This Week's Notable Trailers